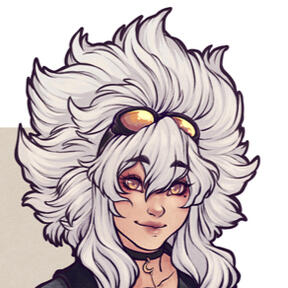 StarbornHussy
🔞 Adult content. No minors allowed. 🔞
He/Him. Amateur lewd artist and writer, casual gamer, food lover, and husband.
Discord: Starborn#7059
Commissions
I do not advertise my current commission status, but I will take your inquires at any time. Just message me!

My commissions have a base price that increases based on complexity. I will break the final price down for you upon request.
---
Monochrome Sketch
---
Rendered Pinup
---
Will Draw:
SFW or NSFWHumans (Preferred!)Anthro (To the best of my ability, they will be very humanoid in shape.)Any genderAny sexual orientationClothing, lingerie, bathing suits, etc. (Within reason)Jewelry, within reasonOriginal charactersFanart (with exceptions) TentaclesWeapons (Within reason)Art with my characters (with exceptions)Consensual bondage
Won't Draw:
Underage (All characters must be 18+, regardless of the work being SFW or NSFW. I will also not "age up" characters.) Real peopleRapeIncestMusclesHyperFeralExcessive cumNon-human genitals BeastialityGore/snuffExtreme fetishes (scat, watersports, inflation, fisting, vore, vomit, diapers, etc.) Mecha and vehicles
If you are unsure, Just ask!
Keep in mind that I primarily draw humanoid females, so any males I draw will be fairly feminine in shape, and any anthro characters I draw will be fairly humanoid in shape.
---
You must have actual picture references for your characters. I cannot work with written descriptions.

Please be very specific with your ideas. Don't be afraid to ask me anything!

I don't set deadlines, as my personal schedule is very erratic. If you are in a rush, I can try to make accommodations, but I may have to charge extra.

I will show you a sketch for approval before accepting payment for rendered works.

I only accept payment via PayPal. All refunds will also be returned via PayPal.

I reserve the right to reject any commission for any reason. If I can't complete your paid commission for some reason, I will give you a full refund.
---
Please send all inquiries to my email or contact me on Discord.
(Contacting me everywhere else is fine too but I respond fastest to the above. Please and thank you.)
Tablet: Intuos 5 Pen/Touch
Programs used: SAI 2 and Clip Studio Paint
PC Games I play: Destiny 2, Monster Hunter: World, Grand Theft Auto V